Our latest whitepaper highlights Hydropol's effectiveness as an extrusion coating barrier for paper-based packaging.
Hydropol coated paper is 100% recyclable
Hydropol is non-toxic and marine safe when dissolved in water
Aquapak, which has successfully developed and commercialised HydropolTM, an innovative polymer based on Polyvinylalcohol (PVOH), has today published a whitepaper which demonstrates how thermally-processible PVOH can be extrusion coated onto paper to achieve gas and oil/grease barrier and sealability, whilst retaining 100% end of life recyclability of the paper.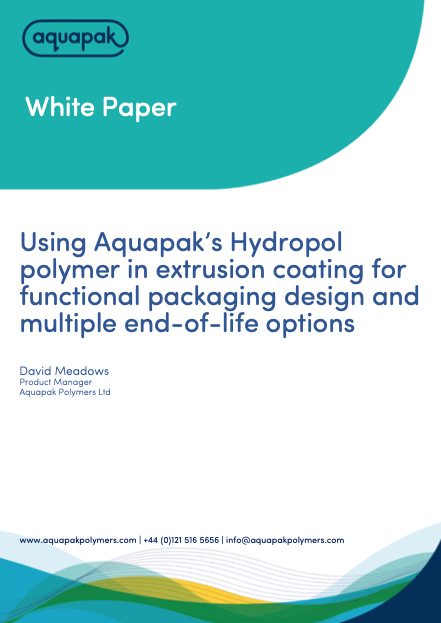 The findings are based on extensive testing across commercial lines and lab facilities at Aquapak Polymers, ITENE in Spain, Tampere University in Finland, and SAM in North America. The whitepaper is launched at today's TAPPI European PLACE Conference Program in Bratislava, Slovakia. TAPPI is the leading association for the worldwide packaging, paper, pulp, tissue and converting industries.
The new findings are particularly important as demand for paper-based packaging has risen sharply following the proposed introduction of taxation for single use plastic products and the need to increase circularity through recycling.
Whilst paper-based packaging can be highly recyclable, the way it is combined with other materials and polymers to improve functionality can drastically hinder recyclability and negatively impact paper fibre recovery. Packaging design can be used to minimise insoluble plastic content and maximise fibre recovery to ensure that future paper-based products remain valuable to the circular economy.
The new third-party tests outlined in the white paper show that Hydropol can be used in extrusion coating on multiple extrusion coating machines at scale. Successfully coating on to both paper and board, Aquapak has proven that excellent results in gas and grease barrier can be achieved and that additional functionality such as heat seal and increased paper sheet strength can also be imparted. Aquapak has also proven that Hydropol coated paper is 100% repulpable in standard pulping systems and can be fully recycled. In addition, if littered Hydropol is biodegradable, compostable, as well as being non-toxic and marine-safe.
Hydropol coated paper can be used applications where strength, grease and gas barriers are required. It can also be enhanced further by combining it with other materials. For example, it could be co-extruded with other polymers to give water resistance. Hydropol coated paper is suitable for making bags and pouches and will run on standard form fill and seal equipment.
Dave Meadows, Product Manager at Aquapak, comments: "The new whitepaper launched today clearly demonstrates Hydropol's effectiveness as an extrusion barrier, both in terms of functionality but also ensuring the paper is 100% recyclable at end of life. Hydropol is an exciting prospect for packaging designers and producers as a replacement for conventional polymers which provide a barrier but are not repulpable."