Aquapak's Channel Partner talks to fashion brands on the alternatives to polluting garment bags made from Hydropol that #LeaveNoTrace at the end of their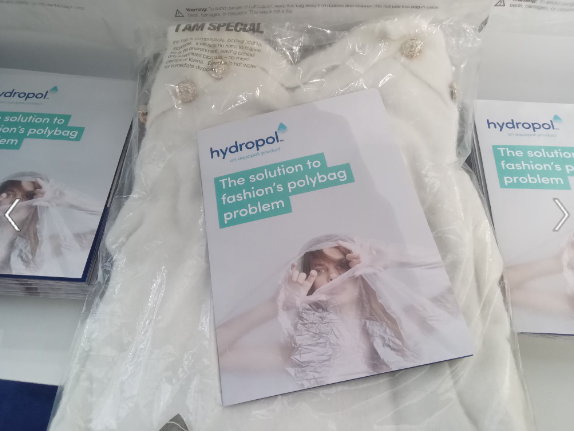 Aquapak was established with the mission to help businesses shift to a less polluting world by developing planet-friendly material technologies.
Our proprietary polymer, Hydropol™ is suitable for a vast array for applications and its unique properties offer an ideal solution to fashion's polybag problem.
It was therefore great to be represented at this February's Pure London event, by our Channel Partner for the Fashion Sector, Rebecca Pickard.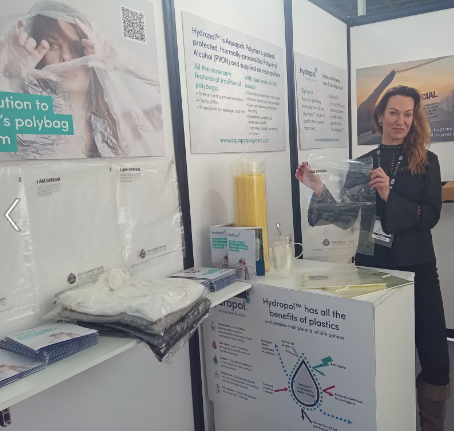 Commenting, Rebecca said, "It was wonderful to speak with so many brands taking their sustainability journeys seriously. As channel partner for the fashion sector, my role is to bring garment bags made from Hydropol to the attention of the fashion industry, sharing how they retain all the necessary features of traditional polybags with zero end-of-life issues.
"Hydropol is supplied in standard resin pellet form so it can be used by polybag manufacturers in their existing machines. Alternatively, brands can be introduced to manufacturers already making garment bags from Hydropol."
Bags made from Hydropol offer all the necessary features of traditional polybags:
Strength and puncture resistance
Clarity of film
Protection from leakages and dirt
With zero end-of-life issues:
Dissolves immediately in hot water
Compostable
Does not interfere with plastic recycling
Suitable for aerobic and anaerobic landfill
Degrades naturally on land or in ocea
Contact us to be connected with Rebecca and discuss your requirements: https://www.aquapakpolymers.com/hydropol-the-solution-to-fashions-polybag-problem/