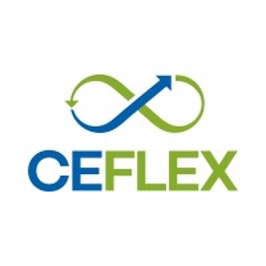 Aquapak Polymers, the material technologies business which has developed Hydropol™, a polymer based on PVOH, has announced that it has joined The Circular Economy for Flexible Packaging (CEFLEX)1 initiative – a collaboration of over 180 European companies, associations and organisations representing the entire value chain of flexible packaging2. Its mission is to make all flexible packaging in Europe circular by 2025.
The initiative is focusing on ensuring flexible packaging is recycled in an increasing number of European countries by developing robust 'Designing for a Circular Economy' guidelines, considering both flexible packaging and the "End of Life" infrastructure to collect, sort and recycle it, and creating sustainable end markets for the secondary materials so that they are returned to the economy in quantity and at a competitive quality/price for potential end market applications.
Hydropol™ is an enabling technology for the circular economy – it is recyclable, biodegradable, compostable and marine-safe, and used in a range of packaging materials. It can be successfully coated on to both paper and board, with proven gas and grease barrier properties, with additional functionality such as heat seal and increased paper sheet strength can also be imparted, making it suitable for a range of packaging uses such as bags and pouches.
Hydropol™ is a thermoplastic polymer, so can be mechanically recycled back into pellet. This works well in closed capture loops, such as retail, where Hydropol™ can be collected in bulk. In mixed household recycling, Hydropol™ can be identified and separated using Infra-Red. If this is not available, then hot wash will dissolve the Aquapak resin allowing recovery and without contaminating other plastic streams.
Based on CEFLEX's Designing for a Circular Economy Guidelines which gives practical support and advice on circular economy design principles, Hydropol™, when providing barrier properties for polyethylene (PE) and polypropylene (PP), is compatible with the CEFLEX guidelines and can be used up to 5% of the total structure of the material (because the chemistry of Hydropol is very similar in behaviour to EVOH) and is deemed compatible with PE and PP mechanical recycling. In addition, CEFLEX is currently evaluating test data from accredited laboratories to confirm that Hydropol™ can be identified, separated, and recycled.
Mark Lapping, Chief Executive Officer, at Aquapak, said: "We are pleased to be part of the CEFLEX initiative and its drive to make flexible packaging circular by 2025. The reality of most standard recycling plants across the globe is that currently they concentrate on two or three plastics that have the largest quantities and therefore the most value when recycled (such as PET). Hydropol, which is non-toxic and marine safe, is compatible with current recycling infrastructure and offers the industry a way to protect resources and the planet."
Footnotes:
1 CEFLEX | A circular economy for flexible packaging
2Flexible packaging is a means of packaging products through the use of non-rigid materials, using a variety of flexible materials, including foil, plastic, and paper, to create pouches, bags, and other pliable product containers. Flexible packages are particularly useful in industries that require versatile packaging, such as the food and beverage, personal care, and pharmaceutical industries.